We are currently using the time freed up in our team by acute cancellations and reductions to help in the crisis with our possibilities as designers and developers. Logically, digital solutions will come out of this again.
We've done this before – five years ago during the refugee crisis. And out came the world's first digital refugee helper. In this now much bigger crisis, we have decided: Even if it will cost us a lot of energy again, we will once again do our part in the crisis.
The pandemic is shaking everyone. We have to watch as people fall ill and die. Important measures have been taken to protect everyone. This threatens the economy to the point of corporate death. Private life is being restricted, in some cases threatening the very existence of the company.
To ensure that you do not fall victim to this crisis in your private or business life, it is extremely important to know how to get effective help quickly. How does it work with the short-time worker money? How can I teach my children at home? Where can I get replacement benefits quickly?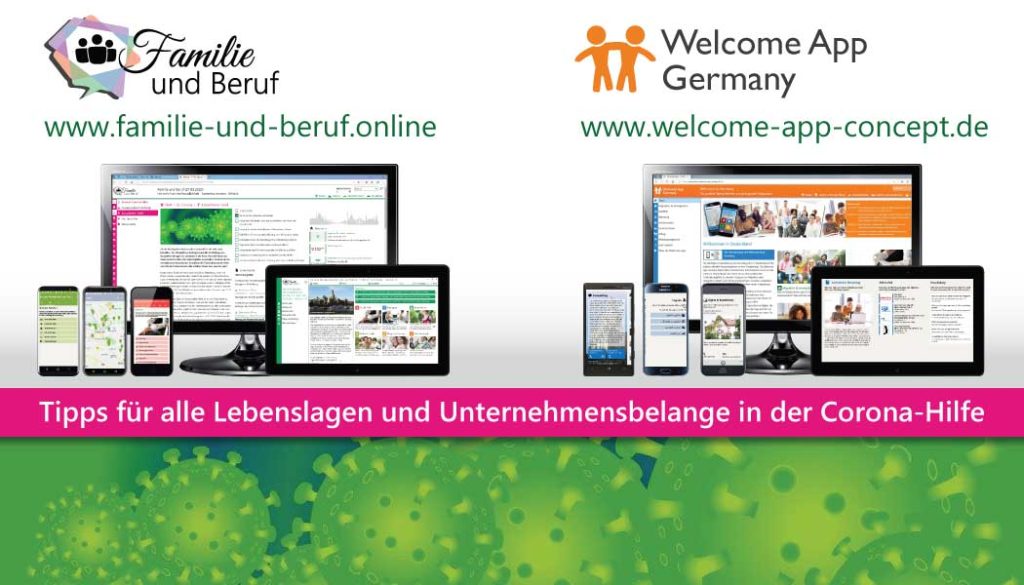 Every day, we provide you with helpful information that will really help and protect you – both privately and commercially: paired with contacts and links as well as documents, accessible to everyone, barrier-free in ten languages and supplemented with explanatory videos set to music.
In the Family and Career Platform

New theme Corona Help with important topics
What do exit restriction or the contact ban mean?
How do I successfully get short-time worker money as a company?
How do I keep kids busy at home while I have to do home office?
As a pet owner, what do I need to keep in mind during these times?
And many more …
In the Welcome App Germany platform

We will also integrate the Corona Help topic into the Welcome app – in 16 languages.
We wish you all the very best. Stay healthy!
If we can support you in any way, please contact us.