It's done – as a pioneer for social digital solutions, the platform "Familie-und-Beruf.online" is ready for users in the pilot region of Dresden.
What makes our new social product so innovative:
The world's first app in the Android or iOS stores on the subject of work-life balance.
The first social innovation on multiple platforms with website, mobile apps and professional software from Saxony.
The first social IT solution that connects family-friendly companies, employees, families and family caregivers.
The IT solution that is almost entirely operable by people with disabilities, which voluntarily implements the Accessibility Regulation (BITV).
The first solution with complementary innovative smart tools like a helpful chatbot or the grant calculator
We spent two years working as a team on the family-and-work IT solution and were almost finished to the point. Thanks to a grant from the European Social Fund to HeiReS as project sponsor, we were able to make the impossible possible.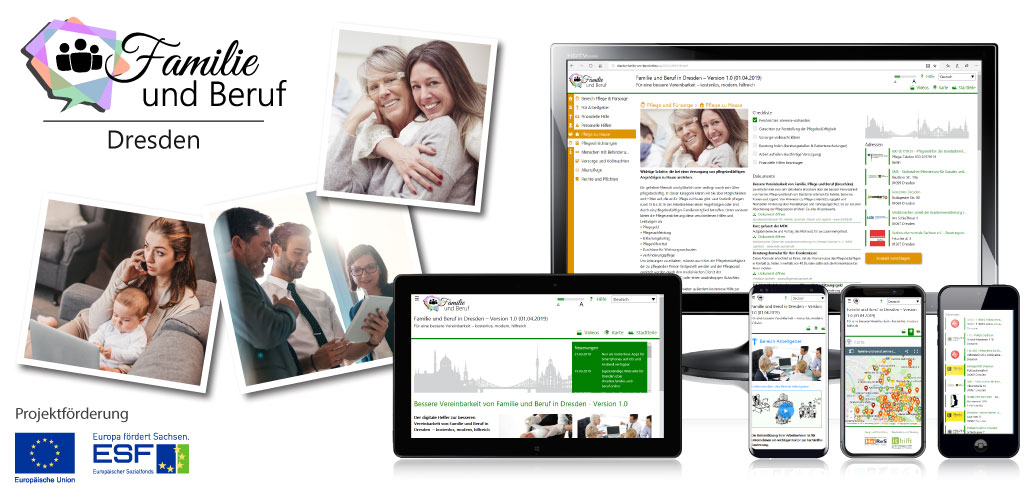 Our solution appeals to all people and helps in various life situations. It also makes sense for regions – whether urban or rural – to use it, as citizens can benefit tangibly from the digital transformation. To this end, we are in intensive contact with mayors, district administrators, and employees of the administration or ministries. Companies show social responsibility by supporting the project. In addition, they increase their chances by highlighting their family-friendly company in the battle for employees.
We are a little proud of what we have achieved. We are happy about vigorous sharing and participation, but we are also happy about press, dissemination and support.
IT hilft gGmbH will be happy to continue providing and disseminating, but now especially scaling and marketing – all for the common good.
Become part of our social innovation and benefit from it – whether as a user, company or region. Please feel free to contact us at +49 351-65615776 or by mail at info@heires.net