2-day training: UX and UI design for developers
In a 2-day crash course, a high concentration of compact knowledge about user experience, usability and UI design. During the course, this is immediately applied in practical exercises, so that the trainees will even take tangible results with them.
The challenge:
"Every developer also has to be a bit of a designer." Especially development departments smaller companies do not have their own designers in the team. And the advertising agency or marketing department delivers things that don't technically fit. Nevertheless, software solutions, websites or app should look modern and good and be sustainable and easy to use. After all, design and usability is the key to sustainable product success. As a result, developers often have to do UI design and usability on the side – without having the appropriate training to do so. This leads either to moderate results or to over-reliance.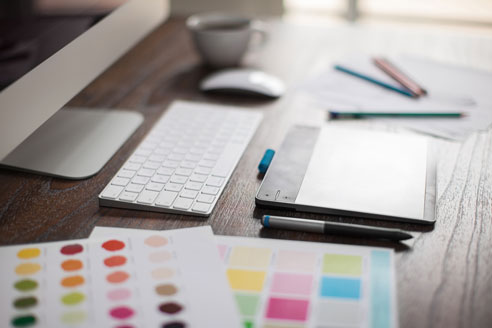 Duration: 2 training days with 8 lessons each in 4 working blocks
Trainer: Peggy Reuter-Heinrich

The solution:
This compact 2-day workout helps your developers face this "Be a bit OF UI designer" challenge. In our crash short "UX / UI-Design" we convey basic design know-how as a concentrate and thus help your developers in a quick start to good user experience design for your applications.

Training content:
Usability General and Why Usability
The user in the center and the context of use of the system
The dialogue principles as a measuring criterion for suitability for use
User requirements, usage requirements and user stories
From user story to user interface element
The user interface as an interface
Optimal working method in usability and UI design
Prototyping – Method presentation and practical application
Interactive prototypes with Balsamiq, XD or PowerPoint
Usability Testing Methods
Process of Design Thinking and Creativity Techniques
Collaboration between designers and developers
Better design in 5 easy-to-understand steps
Design fundamentals: design rules / design tools and design principles
Skallable layouts for different screen sizes and devices
The design process in cooperation with developers
UI design with the help of developers (sketches, balsamiq, XD, powerpoint)
Extension of the prototype from the previous day as a designed prototype
Peculiarity:
The knowledge is built up from your context on a concrete, jointly coordinated practical example. The take-away effect for your developers is not only a lot of know-how, but also real work results that can be continued.
Tools:
Room equipment with beamer or TV
To join: paper, pens, whiteboard, flipchart
Technology for participants: laptop or PC to join in
Software: Balsamiq or MS PowerPoint or Adobe XD
Ein UI-Design-Problem in Ihrer Applikation? - Schon bald kann eine Schulung in Ihrem Hause stattfinden.